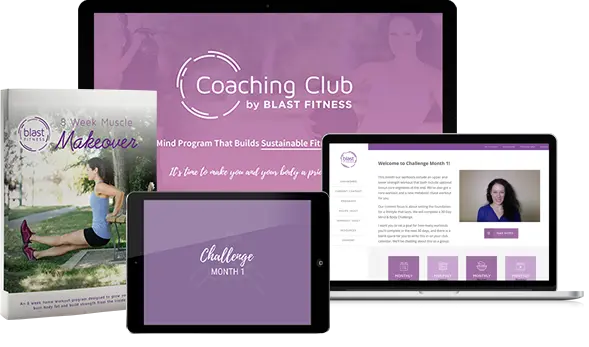 What Was Your Brand Or Business Like Before Hiring Swanked Creative?
Before the project started my membership site was discombobulated and not pretty looking. It also was labor intensive for me so while I wanted people to join obviously because then I make money it was it was stressful. Because people would I would have to do a lot of work to like organize the signup process and then I didn't have things automated so then when people would sign up after I was putting in like tons of efforts to like do a free challenge or whatever in creating all the content for that then I would have to do a lot of work to get them onboarding then I would have to do a lot of communication to like get them into the club and so they knew where to find stuff and like what to focus on. And honestly it just kind of drained me. I also didn't really like the way that the site looked so it felt like you know like when you hand a project in and you're like I know the content is good but it doesn't look the way I want it to look.. that's what it was like.
After Having That Experience What Is It Like Now That You've Had The Offer Makeover? What Is It Like Now What Are You Members Saying About It? How Do You Feel About It?
So now that I've had the membership site fully made over, it looks so much more clean and clear and concise. And the flow works so easily so when someone signs up I literally see the money coming in they get all their automated emails they're led down the garden path they know exactly what to do and where to focus on and where to look first and there's passwords emailed to them. Then they get a welcome video and everything is easy for them to see and then it's an automated process and so then I just get to focus on the like welcoming them into the club and like answering their questions. I'm not tied up in doing so much back-end stuff cuz that's already done and and also I feel like even just from like a personal pride perspective I feel like I want to tell everyone about it because I'm really proud of it whereas before I'd be like that's this thing that I do and now I'm like no I don't want to tell every one of them because it looks so beautiful and I feel like it's a real reflection of me. Not only just my knowledge but also like my tastes.
What Was Your Client Experience Working With Swanked Creative?
Honestly I feel like it was so easy for me to be on board with it because I've worked with a lot of other people that are like only good at design or only good at email marketing we're only good at like the backend stuff we're only good at freaking I don't know one part of like sales but you literally have the whole package so for me it's really really nice because I don't have to spend so much effort being like okay I'm getting the design from Jimmy Joe and I'm getting the backend from her and this from so-and-so it's literally like you when we have a call we're talking about all of it so it's all like you know all holistic. It's a holistic experience so every single element of the process is considered. And that's like everything is created so that it works in the end all be all is that you end up making more money because it all flows. The design looks great. The sales funnel is considered when we create the nutrition white tripwire there's feedback on what the nutrition tripwire should be. Then we use that to put it into the Facebook Ads mark budget then the challenge happens. Then the launch is there which the sales page is like guiding them down the garden path and they sign up. Everything is all automated. I've literally never ever worked with someone who knows all of those things and I felt in the past but before I've been trying to explain email marketing to a design person and even though their design is really nice it doesn't work because I'm like trying to get that to fit into the email marketing. Then the email marketing person I'm trying to explain no I need like a sales page and they don't get that part and they don't get the membership thing and then it's like oh my god ah so that was it made it possible it wasn't possible before
What, Specifically, Was Your Favorite Part Of Your Project And Why?
I feel like the initial part like when we first started talking and I and you literally knew all the like moving parts… the intensive like I was able to see that vision literally gave me so much hope and motivation that I worked my butt off all summer and enjoyed it. Because I felt like it was very targeted focused work instead of being like well "I'm doing all this work and like it's not even gonna turn into anything so that honestly the intensive was really really good and then also just the like probably on like September third or fourth a few days after the sales cart had closed and I had like 18 new members for almost double the prices before it's all automated it looks so nice. I'm not like staying up till midnight anymore emailing all the new people trying to make sure it's all working that part was really nice.
If You Were To Recommend Us To Your Best Friend, What Would You Say?
You have to have to hire Felicia because she literally is the whole package. She will walk you down the garden path and give you every single thing you need to know from design, the email marketing piece, the backend setup, ease of use for the customer etc. And literally will make it so easy you won't waste any time trying to figure out [talking to a million different people] because she has all of the answers in one spot. Plus it will look better and will function better than anywhere else or with anyone else. You will be so proud of your membership site that you will want to tell more people about it's gonna work so much better and you're going to make more money which also makes you happy.