The Funnel Flow Kit Collection
Are you tired of the guesswork when it comes to building funnels that actually work?
Say goodbye to the frustration of juggling multiple strategies and tools that lead to more confusion than results. With our Funnel Flow Kit Collection, you hold in your hands the ultimate solution – a meticulously curated set of resources designed to fast-track your funnel-building journey.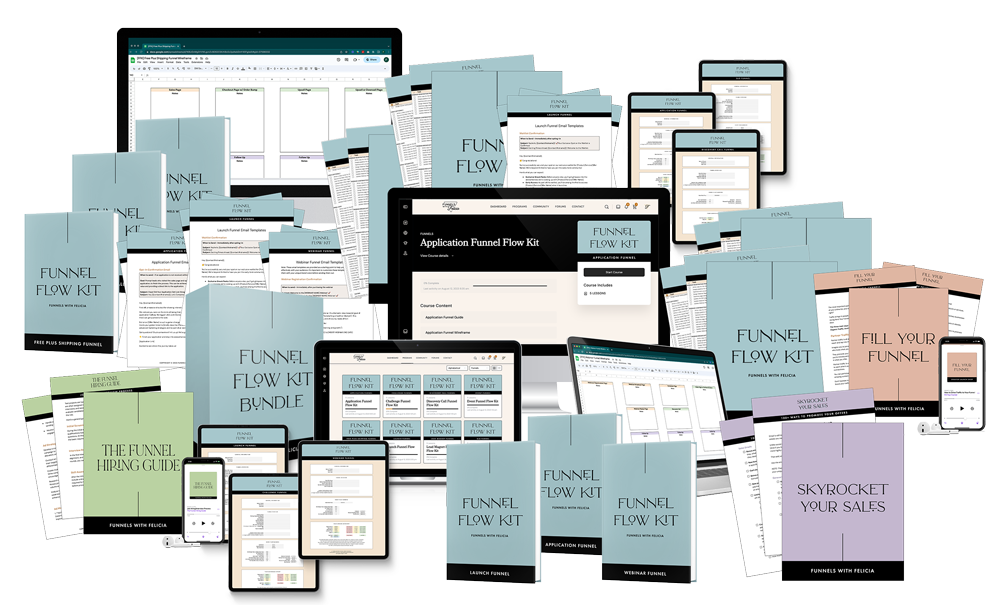 The Funnel Flow Kit Bundle - Ultimate
You instantly access all 12 Funnel Flow Kits, which include a Comprehensive Guide, Interactive Wireframe, Step-By-Step Checklist, KPI Tracker, as well as Plug & Play Email Templates for the following funnels:
Application Funnel
Challenge Funnel
Discovery Call Funnel
Event Funnel
Free Plus Shipping Funnel
Launch Funnel
Lead Magnet Funnel
SLO Funnel
Summit Funnel
VSL Funnel
Webinar Funnel
Workshop Funnel
Plus, these additional bonuses:
Fill Your Funnel Training
The Funnel Hiring Guide
Skyrocket Your Sales Guide
The Funnel Flow Kit Bundle - Essential
You instantly access 7 Funnel Flow Kits, which include a Comprehensive Guide, Interactive Wireframe, Step-By-Step Checklist, KPI Tracker, as well as Plug & Play Email Templates for the following funnels:
Application Funnel
Challenge Funnel
Discovery Call Funnel
Event Funnel
Launch Funnel
SLO Funnel
Webinar Funnel
Plus, these additional bonuses:
Fill Your Funnel Training
The Funnel Hiring Guide
Skyrocket Your Sales Guide
The Funnel Flow Kit Bundle - Starter
You instantly access 3 Funnel Flow Kits, which include a Comprehensive Guide, Interactive Wireframe, Step-By-Step Checklist, KPI Tracker, as well as Plug & Play Email Templates for the following funnels:
Discovery Call Funnel

Launch Funnel
Lead Magnet Funnel
BONUS: Fill Your Funnel Training