My Review of the Funnel Gorgeous Society's Master Marketer Certification Program Review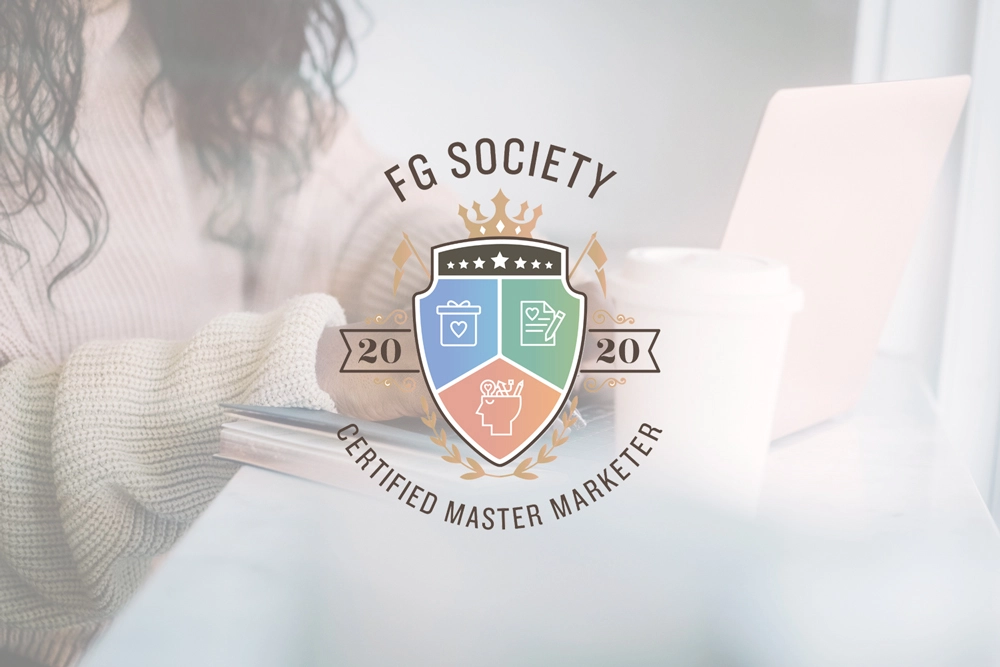 This post contains affiliate links for the program and I will receive a commission if you decide to purchase the program. You'll also receive access to my bonuses described later in this review.
I enrolled in the Funnel Gorgeous Society's Master Marketer Certification Program in June 2020. Since then, my business has grown exponentially and I've accepted many opportunities since becoming a Certified Master Marketer.
In the past, I've enrolled in several marketing programs and even acquired six certifications from other organizations. However, there's no certification program quite like FG Society's Certified Master Marketer Program and it is changing the game when it comes to equipping business owners as Triple Threat Marketers.
The goal of this review of the FG Society's Certified Master Marketer Program is to share my personal experience as a student over the last 2 years.
What You'll Learn In This Review
Who are Julie & Cathy?
ABOUT JULIE
Julie Chenell is a digital marketing genius that ran a multi-million dollar agency where she used her copywriting and strategy skills to help business owners launch digital offers through sales funnels. She has worked directly with Russell Brunson (CEO and co-founder of ClickFunnels) building his own funnels, runs a $25K private mastermind group, and creator of the Create Your Laptop Life podcast.
Julie is the person who taught me everything I needed to know about digital marketing and running a successful online business. Back in 2017, I invested in her signature course "The Digital Gangsta" (now known as The Digital Guidebook) and finally grew my business to consistent $5K months in 2018.
ABOUT CATHY
Cathy Olson is the design and branding genius that's worked with multi-billion dollar brands like Costco, Best Buy and Disney. She teaches high-end branding and web design as well as conversion design styling. Cathy is also leading the movement on integrity in Marketing through the Marketer's Heart community.
Cathy was on my radar for years because I always saw her company credited as the designer behind several heavy hitters in the online industry. Her websites were always unique and beautifully designed. When she launched the Inspired Pro Academy and the Love Inspired Inner Circle I knew I had to sign up. Her program helped me elevate my skills as a designer and I finally began charging premium rates for my work and brought my business to six-figures in 2019.
Together, Julie & Cathy are the founders of Funnel Gorgeous and FG Funnels (funnel software and CRM) and the teachers behind the FG Society's Certified Master Marketer Program.
What is the Funnel Gorgeous Society's Certified Master Marketer Program?
FG Society is the certification program Julie and Cathy created to teach business owners how to become Triple Threat Master Marketers by mastering offer creation and strategy, sales copy, and funnel design. It's also a community of students and certified alumni (like me) who support one another on their journey to success as an online marketer.
The certification program is broken up into three phases: Offer Creation & Strategy, Copy and Design.
In Phase 1 (Offer Creation and Strategy), you'll learn everything you need to know about creating irresistible offers and the different types of sales funnels that work for different offers. Julie goes deep into the details on understanding the customer avatar, unique selling proposition (USP), offer pricing, and the specifics of lead and sales funnels.
I knew a lot about sales funnels from designing them from clients, but the full strategy and why behind which type of funnel made everything crystal clear for me. Once I mastered this skill, I became more than a designer but also a funnel strategist.
In Phase 2 (Copywriting), you'll learn how to write direct-response sales page copy. Let's just say every single element of a sales page is taught down to the last detail! You'll also understand persuasion, preframing, storytelling, and naming – which is such an underrated skillset IMO.
I've taken direct-response copywriting courses but this one solidified everything I had learned up to this point. As a designer, I would often see sales pages that had not-so-great copy. I was able to copyedit these pages and improve the client's conversions.
In Phase 3 (Design), you'll learn how to design and optimize every section of the sales page. Cathy held nothing back when it came to explaining how to create gorgeous and high-converting design. Once you master this phase, you'll never be able to look at a sales page again without immediately recognizing ways to optimize it for better conversions.
For me, this was probably the easiest phase because I had already studied under Cathy in her programs. However, I absolutely loved how this phase allowed us to get inside her head and understand why she was making certain design decisions.
The exams for each phase were challenging but not ridiculously complicated. Basically, if you watched all the training and studied for the open book exam you can pass it. Phase 3's exam also consists of the Final Project, where you'll submit an example sales page. This is probably where most people were super nervous during my cycle but the majority passed. If you don't pass, they'll tell you why so that you can improve it before your next submission.
By the end of the certification program, you will be a Certified Triple Threat Marketer!
To be certified, you have to finish the program within 12 months and pass the exams. Each phase is unlocked after completing the previous phase's exam. I enrolled during the first beta cycle, so it took me 6 months. However, I'm confident I could have finished it in less than 3 months.
To remain certified, you pay an annual fee ($500/year). There's no continuing education or additional exams. Although, I wouldn't mind if they added more training or exams because it would keep us up-to-date on best practices, trends, etc.
What's included in the FG Society's Certified Master Marketer Program?
Besides the core curriculum training, you also get access to a few bonuses such as The Digital Guidebook and The Inspired Pro Academy for FREE. Yes, the two programs that equipped me with the skills to elevate my design business to 6 figures and help my clients launch high-converting offers!
The other bonuses are Julie's Service Provider Webinar, Influence Masterclass, Proposal Secrets, Starting From Zero Series, Cathy's FG Design Course, and a private community for students and certified alumni.
Let's just say with these bonuses, especially the Proposal Secrets, you'll have everything you need to start or grow your own business as a marketer, funnel builder, sales page copywriter, sales page designer, or even an agency! You get to decide whether to use all three skills right away to make money or specialize in one particular area.
A few perks of being certified are:
50% affiliate commission on their courses
Featured on their Hire A Marketer website and in their directory
Access to job requests that are submitted on the Hire A Marketer
12 months of additional FB group and weekly Q&A with your renewal fee waived
1x a month mastermind call with Julie + Cathy
Key Takeaways That Skyrocketed My Business Success
Looking back I owe a lot of my wins to being part of the FG Society Certification. I've had the opportunity to work with influencers such as BossBabe and Vanessa Lau. Those opportunities came to me from the relationships I cultivated in FG Society.
I've earned multiple 6-figures in my business while working no more than 20 hours a week. At the time I was a virtual schooling mom during the pandemic and I didn't have a lot of time for taking courses but I prioritized this program because I knew it would pay off.
Once I saw the benefits of having a high-ticket funnel building business, I was able to transition to full-time homeschooling and my family travels around freely. I coach clients, run meetings, and lead teams from wherever I am. I live the nomadic laptop lifestyle!
It's not only my business that has been impacted by the FG Society's Certification Program but also my client's businesses! I've helped my clients grow their coaching programs, scale their signature offers, revive certification programs, increase average order values, and so much more. I was able to help my clients get results and build the businesses of their dreams because I invested in myself and learned the skills that would increase their sales.
To make the most of the FG Society community, get connected with others. Post in the FB group. We're there cheering you and wanting to see you succeed.
If you're just starting out, choose one area to focus on and get really good at it. Use the bonus training such as the Starting From Zero Series and Proposal Secrets to get your first client. Use your Final Project in your portfolio but also create 1 or 2 more examples if you don't have any client work. Potential clients like to SEE what you're capable of even if you're just getting started.
How Much Does The FG Society's Certified Master Marketer Program Cost?
The current investment for the program is $2997 if you pay in full. They also have a 12-month payment plan.
You will have to purchase some prerequisite training materials such as Offer Cure, Funnel RX, Webinar Gorgeous, and AD Gorgeous. Think of it like when you're in college and you have to also buy textbooks for your courses.
These additional materials are to help you become the best marketer you can be and they're hands down worth every single penny. As a matter of fact, I'd highly suggest purchasing the Offer Cure or any of their other programs to get a taste of what to expect from Julie and Cathy.
My Affiliate Bonuses
When you enroll in the certification program using my affiliate link, you can claim these bonuses:
BONUS #1: CartFlows Quickstart (Value $197)
Learn how to build sales funnels on WordPress using the popular plugin CartFlows. In this workshop, you'll learn how to create a Self-Liquidating Offer funnel with a 2-step checkout, order bump, upsell, and downsell using CartFlows Pro (the #1 sales funnel builder on WordPress).
BONUS #2: 12 Months Access to Your Own Private WordPress Website (Value $697)
It's tough when you're first starting out to invest in a website and quality plugins, which is why you'll get a private WordPress website hosted on my server fully loaded with my recommended tech stack: Astra Theme, Elementor, WooCommerce, and CartFlows.
This is your personal playground to learn the WordPress software as well as the additional plugins, test your skills, and you can even host your final project here. This bonus also includes access to the WordPress Quickstart (Value $97) course which teaches the essentials of WordPress.
Note: This website is not for business use so eventually you'll need to invest in your own setup. Support for the website, WordPress, themes or plugins is not included. In order to get support, you'll need to purchase your own license and contact the plugin developers. If you'd like to export the site to your own server, we will provide you with the information you need for a site migration.
BONUS #3: VIP VOXER DAY ($497)
For 6 hours, we'll go back and forth via the audio app, Voxer. This is an opportunity to speak with me directly without it being like a call. Since this is not an actual call, we'll both strive to be as responsive as possible but we'll both be doing other things. We can chat about anything in your business.
You can also dive deeper into one of the phases. You may submit a high-level document for me to review but this doesn't include copy-edits/line-item edits. Any feedback will be audio only. Any recommended resources will be delivered the next day in a Session Summary email. Note: Must be used within 12 months
To claim the affiliate bonuses, sign up for FG Society's Certified Master Marketer program using any link on this page and fill out the form to submit a screenshot of your receipt on https://go.funnelswithfelicia.com/fgs-affiliate-bonus.
How to Sign Up for the FG Society's Certified Master Marketer Program
You can click here to watch a free on-demand webinar by Julie and Cathy that explains more details about the program. You can click here to read the full sales page details.
Is FG Society's Certified Master Marketer Program worth it?
In my opinion, the FG Society's Certified Master Marketer Program is absolutely worth it! I already had a design business and was building sales funnels for years before I joined the program but I still enrolled because I knew there was more that I could learn for my clients.
You will learn MONEY-MAKING skills that can generate 6 and 7 figures in revenue over time. These skills will apply to not only your client's businesses but also your own!
If you want to learn or grow your skills to become a funnel builder, digital marketer, offer strategist, sales page copywriter, sales page designer, project manager, or launch manager, you should definitely consider investing in the program.
Thank you for reading this full review. I hope this helps you make an informed decision. If you have questions about my review or experience, feel free to send me a message on Instagram/Facebook or comment on this post. I can't wait to see you inside the community!